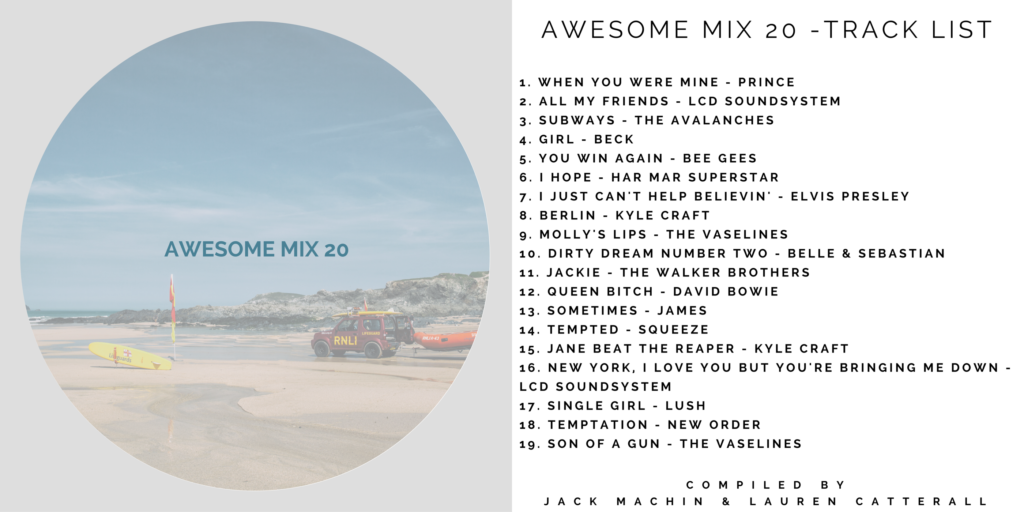 Right, I've been meaning to do one of these for each Awesome Mix CD I've done since late October 2014. I just never got round to doing it. Maybe I'll go back and do a retrospective, snarky look at the songs I chose to listen to while commuting. That seems like quite a lot of effort and it'll all disappear one day anyway when I die and no one pays for the hosting on this site anymore.
Nihilism aside, here's the list for Awesome Mix 20 with a bit of justification, a bit of autobiography and a few weak jokes. Some of these jokes came from Lauren first and you'll be able to spot them because they're the bits that you, personally, don't find funny. Anything you do find amusing is a certified Mach zinger1.
1. When You Were Mine – Prince
I hadn't actually heard this Prince song before seeing Har Mar Superstar cover it Primavera festival. I'll talk more about Har Mar later on, but I feel stupid for not listening to this song before now. Prince man, just too many hits.
It's kind of an unwritten rule, after twenty of these CDs that if a Prince song is going on, it should really be the first track on it, because Prince is the best.
2. All My Friends – LCD Soundsystem
This is my absolute favourite song at the moment, and not really one I appreciated until recently. With LCD first time around I was all about North American Scum, Daft Punk etc, and Never as Tired as When I'm Waking Up.
Somehow I missed All My Friends, despite it being the best song ever. Anyway, I was planning on doing some wanky navel gazing stuff about how much lyrics mean to me right now. But fuck that, just put the song on loud.
3. Subways – The Avalanches
Another new tune from Primavera, this one was officially played for the first time at around 5am on Saturday morning and it was glorious. In fact the production of the entire CD was being delayed until the entirety of the new Avalanches album came out, but then I saw Subways was already available on iTunes, so it went straight in at track three.
4. Girl – Beck
Way back in 2005 this was one of the few songs that my brother and I agreed on. He was mainly into either metal or hip hop, not coincidentally anything opposite the indie that I was listening to. But we both agreed that this was a banger. I'd pretty much forgotten about this song until there was a group chat about Beck playing the Albert Hall the other night and then saw that it had made the setlist.
A "perfect summer jam," even if only wankers use the phrase "summer jam."
5. You Win Again – Bee Gees
As it seems to happen with all these CDs, one song sneaks on there that is clearly "not very good." But it gets on there anyway because I laugh every time I hear it. This is that song. Just listen to that snare sound at the start. No snare in the world sounds like that, and yet as soon as it starts I am giggling like a little girl.
The lyrics in this song are quite unbelievably bad as well:
Oh girl, oh girl, oh baby I shake you from now on
I'm gonna break down your defenses
One by one
I'm gonna hit you from all sides
Lay your fortress open wide
Nobody stops this body from taking you
That is full on spousal abuse right? And lets not even get started on what that "fortress" metaphor is all about.
Still that snare sound, massive.
6. I Hope – Har Mar Superstar
This was my favourite new discovery from Primavera. After watching too much of the fucking awful Floating Points set, we made the decision to give Har Mar Superstar a watch and it was just the best possible decision. Fancy, someone enjoying themselves while on stage, entertaining the crowd and actually playing songs.
Anyway, this was the most memorable one from the set barring the Prince cover which has already appeared on the mix.
7. I Just Can't Help Believin' – Elvis Presley
68′ Comeback Special Elvis is the best Elvis. Did you know that before the film was recorded, Elvis sacked his long term manager Colonel Tom Parker because Parker wanted the King to do a film consisting of just Christmas carols? Instead Elvis decided he was going to play live and loud in black leather. Best decision ever.
Ignore all of that though, because he didn't actually play this song at the 68′ Comeback Special. Instead it appeared on another musical documentary Elvis: That's the Way It Is, covering Elvis' time jumpsuited up in Las Vegas. This is the second best Elvis.
8. Berlin – Kyle Craft
Another new one, I don't really trust music recommendations from anyone because I'm a wanker. Usually a recommendation will make me actively dislike a song, because I'm immensely stubborn. Sam Buchanan has a proven track record so if he says something is good, I'll give it a chance.
He wasn't wrong about Kyle Craft.
Berlin is the standout track from his debut album Dolls of Highland, it's a sleazy melodrama that lands just the right side of Jim Steinman. It's also a song with a story, and they just don't write songs with stories anymore. Except they do, because this came out in 2016.
9. Molly's Lips – The Vaselines
There's a clown horn in this song, how many songs try that? And more importantly, how many get away with it?
Just the Vaselines, innit.
10. Dirty Dream Number Two – Belle & Sebastian
Right, this song has been the equivalent of this in the back of my mind since forever: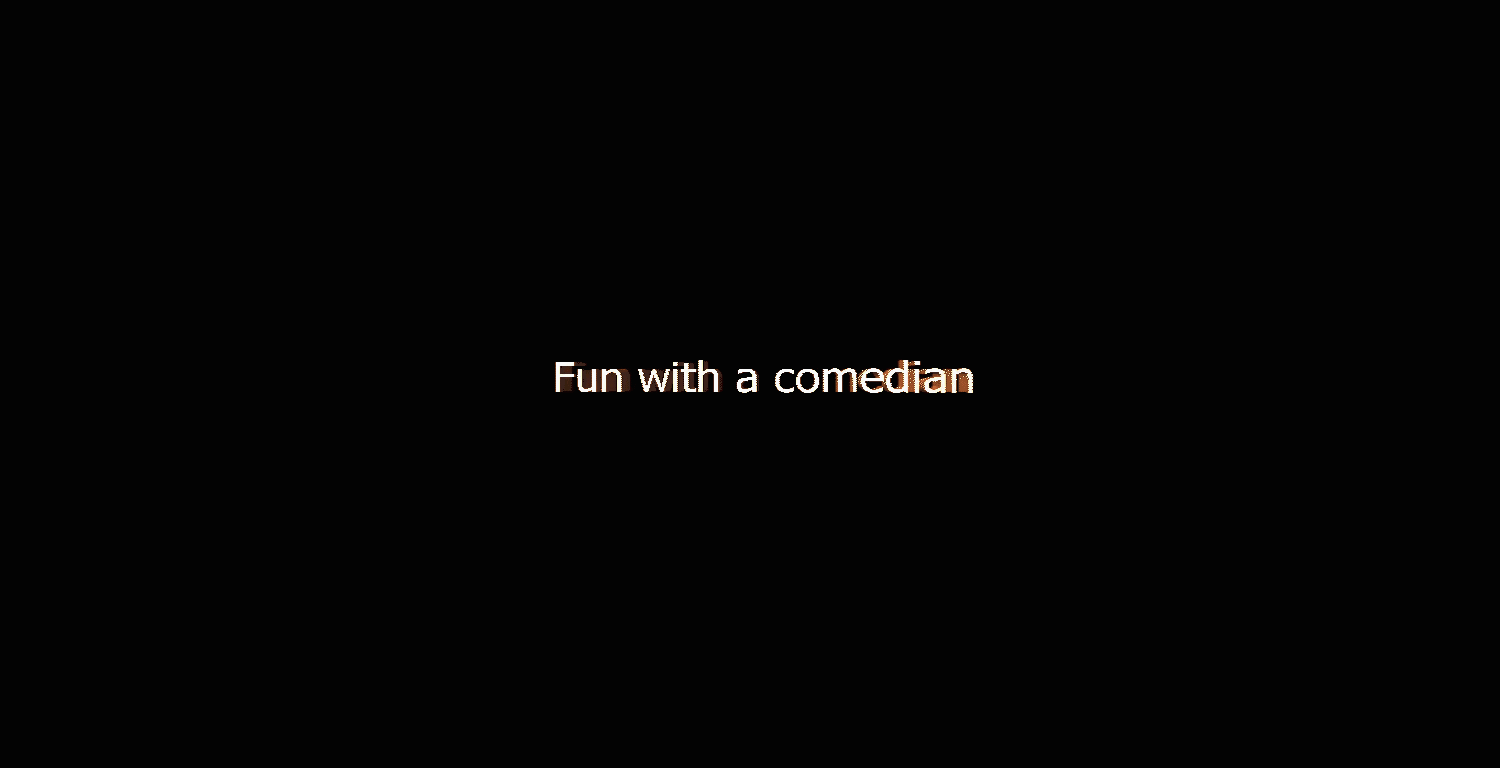 Also to do this fucking GIF I had to do the following:
Google vintage screensavers
Find you can still make crap screensavers in Windows 10
Wrestle to get the point across within the character limit
Actually set it as my screensaver
Download and install some screen capture software (OBS)
The screen cap stuff software wouldn't install without some new DirectX drivers
So then I had to install the new DirectX drivers
Try and install OBS again.
During this time the annoying screensaver kept popping up uninvited.
Fuck with the settings on OBS to make it screencap properly. This included a complete computer restart.
Capture the shitty screensaver on video.
Edit the video to cut out the bit where I click "preview screensaver"
Export the video as a gif.
And then upload it to this post.
It really wasn't worth it, what a massive waste of time.
It isn't even the best line in song.
11. Jackie – The Walker Brothers
Rumours that this song has been included because it means I get to sing the line:
My name would then be handsome Jack
Have been greatly exaggerated.
Anyway, you know Saint Scott Walker, on headphones, on the bus. Yes, I only listened to Scott Walker because The Long Blondes told me to in 2006. I'm not cool and neither are you.
12. Queen Bitch – David Bowie
Well, what can I say about David Bowie that hasn't already been said better and more interestingly by other people? Fuck all. I like this song though.
I was once listening to the radio where some hack DJ was interviewing Rachel Stevens of S Club 7 fame. She was in her post pop group solo phase and pushing her new album "Funky Dory". Which I think we can all agree is a very clever and original title for an album.
Less clever, though, is the fact that she kept saying about how the lead single, also called "Funky Dory" sampled the David Bowie song "Funky Dory," (actually Andy Warhol). I'm tempted to declare this on a level with war crimes, but given what's on the news as I'm typing this, it seems insensitive.
13. Sometimes – James
I've been meaning to put this song on a mix CD since thinking it was "quite good" when I saw James at Kendall Calling last year, but I kept forgetting about it until this CD. Now that I've listened to it more, the lyrics are a bit shit. They're basically like Nick Cave's Tupelo but shit.
Still quite like the rest of the song though.
14. Tempted – Squeeze
Back in the mid noughties, I went to quite a lot of gigs at Doncaster Dome. Which for those of you who didn't grow up in North Nottinghamshire/South Yorkshire is a weird swimming pool/ice rink combo that also had a sports hall where they put on gigs.
You've not really experience The Strokes live unless you've seen them in the kind of room you'd expect to be full of desks ready for GCSE English exam. One of these gigs was Paul Weller, which I went to with my Uncle Bryan. For the record Weller was shit. He didn't even play any Jam songs, making a point about how that period was over.
Six months later, he's on the Brits receiving the Lifetime Achievement Award, and playing Jam greatest hits set. I felt personally betrayed. While I was at this gig though, my Uncle Bryan was telling me about how he saw Paul Carrack at "the Dome" a few months earlier, and being an idiot I didn't know who Paul Carrack was.
Bryan explained that he was the singer in Mike + the Mechanics (and, for a period, Squeeze). For some reason, I heard Derek and the Dominos  not Mike + the Mechanics and thought "that's not right, Derek and the Dominos" is Eric Clapton.
Moral of the story, bands, don't have alliterative Something and the Somethings band names. It confuses teenagers. This is my story 'about' Paul Carrack.
15. Jane Beat the Reaper – Kyle Craft
A second appearance from Kyle Craft on this mix. I like this song mainly because you can scan in Mach in place of Jane for most of the lyrics and that appeals to my ego.
16. New York, I Love You But You're Bringing Me Down – LCD Soundsystem
Obviously, this song is quite a personal rant from James Murphy to New York.
But given the wider message about the place you live becoming unrecognisable and half the people there letting you down; I don't think any song sums up the mood of post Brexit Britain better.
17. Single Girl – Lush
Pfft, this is clearly only on here to fill out diversity quotas. Stupid SJWs ruining everything.
18. Temptation – New Order
This was a last minute entry that only made it on after watching the ropey New Order performance from Glastonbury. Despite, that this remains an all time great. I'm only slightly annoyed that I didn't think to put "My Girl" on here as well to go with this song and the Squeeze number.
19. Son Of A Gun – The Vaselines
Been on a bit of Vaselines kick recently, and as Molly's Lips is less than 90 seconds long, I thought they deserved another track. This, being the other one Kurt Cobain covered, is obviously the best one because I'm a filthy casual.
1. Fans of my drafts folder will recognise this line from the, as of yet unpublished, Primavera post.